A recent survey by the Pew Research Center showed that 61 percent of Americans are in favor of legalizing cannabis. Over the last decade, these numbers have steadily risen as the prescription opioid crisis, and rising health care costs have turned up the heat on the chronically ill. Even though cannabis remains illegal under federal law, Maryland is one of 29 states that have legalized medical cannabis. However, the Old Line State hasn't stopped there with its support of the drug.
Changing a Cash-Only Business
Since the practice of buying and selling medical cannabis is still illegal under federal law, dispensaries have been a cash-only business. Federal law prevents cannabis businesses from working with Federally chartered banks and credit card companies. Without the backing of a bank, business owners have had to rely on personal collateral and capital to lease storefront space. They have also had to find ways to pay bills in cash, a process that is increasingly difficult in the age of electronic banking.
In spite of federal guidelines issued in 2014 that would allow banks to begin to take on medical cannabis business accounts, many have declined, citing risk associated with a loss of insurance or bank charters.
On the other hand, some banks in Maryland are seizing the opportunity to help this cash-only business find legitimacy in the banking world. Dispensaries are allowed to open business accounts with State chartered banks as long as they adhere to strict licensing guidelines and pay larger than normal fees. These businesses can then use debit cards and credit cards with PIN numbers to pay bills as well as employees.
Support From the Maryland State Government
One of Maryland's biggest steps was to create the Maryland Medical Cannabis Commission (MMCC) after the general assembly passed the medical cannabis initiative in 2014. Here, patients who have been admitted to hospice care or who are receiving palliative care (those whose symptoms include cachexia, anorexia, severe pain, nausea, seizures, or severe muscles spasms for whom other treatments have been ineffective, or patients with glaucoma or post-traumatic stress disorder) are encouraged to apply for authorization to use medical cannabis.
Click this image for the MMCC Patient Registry. Learn how to complete your application for Medical Cannabis Registration.
They must provide personal information as well as a written certification from a provider that is approved by the MMCC to be considered. While the process may seem lengthy, it is designed to prevent abuse by those who may not need to use cannabis for medical purposes.
Studying Outcomes
Opponents of the medical cannabis initiative often claim that the dosage requirements, recommended conditions and long-term effects of cannabis have not been appropriately studied. Yet, the studies that so many opponents are waiting for can only be conducted in places where cannabis is legal. Two medical cannabis companies in Maryland are seizing such an opportunity by working together to study the effectiveness of different delivery systems. In examining vaping as opposed to smoking, they are hoping to contribute to the body of research in support of medical cannabis for specific conditions.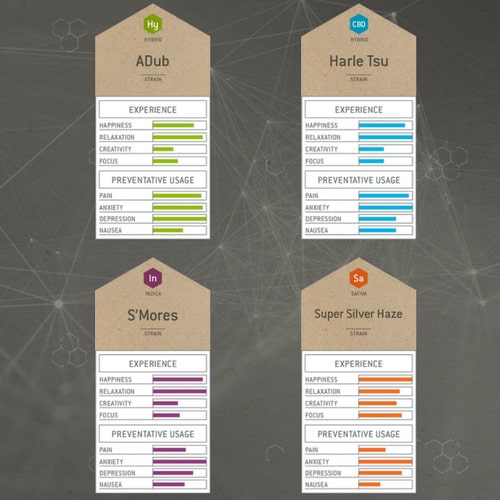 Here are a few of our strains. Click the image to check out the rest!
Maryland's acceptance of medical cannabis can only be described as a growth mindset as banks, state government and the general public rise to meet the challenges of this movement.